Employers are showing more interest in continuous, real-time employee screening.
Most companies screen for red flags in their employees' work, legal or financial history once, before they come on board on day one. The problem is that those checks represent a moment in time. If an employee commits a crime, has a license revoked or loses work authorization after being hired, the employer may never find out.
Only 11 percent of organizations re-screen current employees, according to a 2018 report from background screening providers . Even these periodic checks—done once a year, for example—can mean employers are blind in the interim.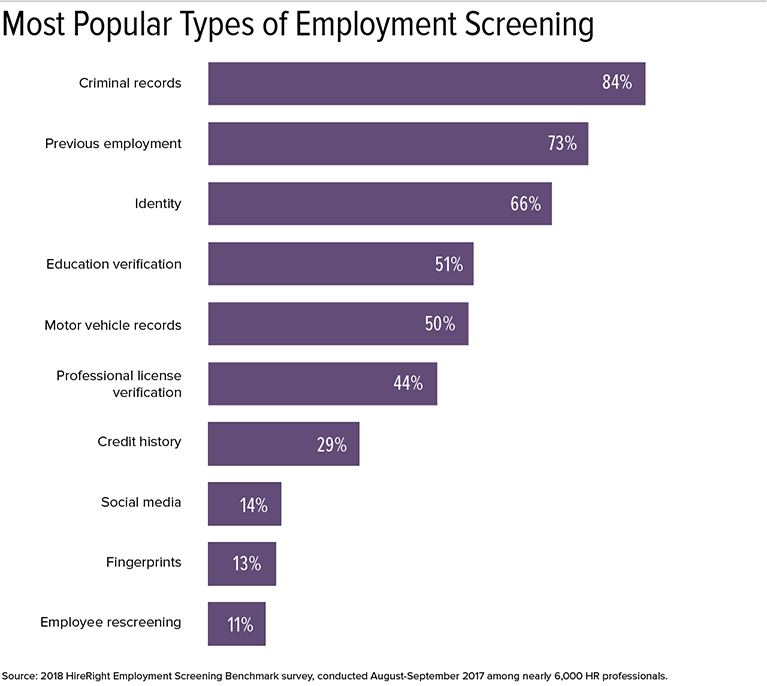 "As organizations become more mature in their screening programs, they realize that fluid information is something they want to have a better grasp on," said Mary O'Loughlin, background screening managing director and vice president for health care and life sciences.
Uber is the most high-profile company to go public with its plans to conduct continuous background checks on its on-demand workforce. The company has been pushed to do a better job of screening its drivers following recent accounts of alleged misconduct.  

Uber teamed with a San Francisco-based screening firm to get continuous updates about drivers' records, including new criminal violations and license suspensions. The technology will notify Uber, for example, when a driver is charged with driving under the influence.
Since launching the screening in July, Uber has removed over two dozen drivers, said Gus Fuldner, Uber vice president of safety and insurance.
"It is a subscription that listens to a candidate's data over time, looking for and identifying changes in their background to mitigate risk for companies," said Tomas Barreto, vice president of product and engineering at a background screening company. If new information launches a full background check, the worker is also notified, he said. "If a candidate believes their report is inaccurate or incomplete, they can initiate a dispute. In the future, the technology could allow candidates who previously were disqualified to resurface after enough time has passed from prior traffic violations."
Rising Trend
Continuous screening is more widely available today than it was even a couple of years ago, due in large part to advances in technology, said Melissa Sorenson, executive director of the National Association of Professional Background Screeners.
Continuous background checks are possible primarily because more police departments and court systems have moved to online records systems, as well as due to advances in technology to scan the Web and analyze data.
"While there are some industries whose regulations have mandated continuous or some form of periodic screening, such as health care, we are seeing more industries embrace the idea, particularly in industries with access to vulnerable people or where direct, one-to-one consumer access is a part of the employee's or contractor's scope of work," she said.
The trend is spreading to sectors such as manufacturing and retail, government and public school systems.
Important Caveats
Employers should think hard and perform a cost-benefit analysis before implementing the technology, said Spencer Waldron, an employment attorney in the Irvine, Calif., office of Fisher Phillips. "Currently, there is no empirical evidence that shows continuous screening is advantageous to employers," he said. "Whether it is a cost-effective tool and whether the advantages outweigh the disadvantages is something very specific to the company, which each employer should analyze."
Be sure to understand what you're really paying for, he added. Information from online databases are not as reliable as information gathered directly from the source.
"Have appropriate expectations about what the solution would be and would not be," O'Loughlin added. "Particularly on the criminal side, there are a lot of holes that exist, at least for the foreseeable future." That's because there's no single database for criminal records, and many jurisdictions have not digitized records and put them online.
"It's not an end-all, be-all solution," she said. "There will be situations where you won't be able to access all the information out there. And once you get outside the U.S., the data is not as readily available."
Don't Forget About Compliance
Continuous screening must still comply with the federal Fair Credit Reporting Act (FCRA).
Follow federal and state laws regarding disclosure and authorization requirements and the adverse action process, in case an employee is fired based on what the screening uncovers.
O'Loughlin reminded employers not to base decisions on arrest records and to allow individuals an opportunity to dispute the findings.
But it's the provision that requires written consent by an employee before a background check is conducted that can get a little tricky, experts said. "If you want the authorization to allow you to run these background checks throughout the person's employment, you must be sure you say so clearly and conspicuously in the notice and consent," said Jon Hyman, a partner in the labor and employment group of Meyers Roman Friedberg & Lewis, based in Cleveland. "Otherwise, you have to provide a fresh new notice and obtain a new consent each time."
He explained that an employer may use a one-time blanket disclosure obtaining permission from employees to conduct background checks at any time during the employee's tenure. The disclosure must state "clearly and conspicuously" that the employer intends for the disclosure and authorization to cover re-screening continuously throughout their employment.
"Although signing an authorization one time at the outset of employment is generally accepted under federal law, it is not necessarily permissible under state or local law," Waldron said. "There has been litigation in some jurisdictions—particularly California—as to whether continuous authorizations are permissible, versus authorization that must be obtained each time a background check is performed."
HR also needs to be prepared for when an employee refuses to authorize a rolling background check. "Is the employee going to be terminated?" Waldron asked. "The employee may claim it is an invasion of privacy. This is an uncharted territory of litigation, which comes with some risk, particularly if the employee is a member of a protected class, which may trigger a discrimination claim."
Roy Maurer, 2018